Begin Your Programming Adventure: Learn the Fundamentals with Our Basic Python Course!
Our Python course is perfect for beginners who want to learn the basics of programming with one of the most popular languages in the world. Join us and gain a solid foundation in Python to start building your own projects and pursue your programming goals.
Trainer Profiles
Industry Experts

Salary Package
upto 10 LPA
Course Curriculum & Projects
Complete Python Training Course
FOR QUERIES, FEEDBACK OR ASSISTANCE
Contact Dizi Global Solution Learner Support
Rs. 15,000 (Including GST)
I'm interested in this program
Fill the form and our team will get in touch with you !
Frequently Asked Questions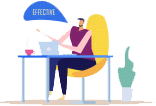 Career Assistance