What did you search last time on the Google??
Do you remember scrolling through the results? The pages that contain all the clickable options for new information are search engine results page, or SERPs.
Here is a brief definition of SERP. SERP stands for Search Engine Results Page. Simply put, this is the page that a search engine displays after a user has submitted a search query. The results are displayed in different formats. In addition to site names and metadata, searches can also return text, images, purchase offers, tweets, or information cards.
Search engines provide a ranked list of URLs related to individual keywords entered. The more you know about SERPs, the better you can strategize your content and site design.
How do search engines work?
Search engines work through three main functions:
1. Crawling: The first step is crawling. Search engines send out web crawlers to find new pages and record information about them. We sometimes refer to these web crawlers as "spiders" or "robots". Their purpose is to discover new web pages that exist and to periodically check the content of pages they have visited before to see if it has changed or been updated.
2. Indexing: The second step is indexing. Indexing is when a search engine decides whether to use the content it has crawled. If the crawled web page is deemed worthy by the search engine, it will be added to its index.
3. Ranking: The third step is really the most important step and that is ranking. For any given keyword, search engines sort or rank the results to give the searcher the most useful and relevant results they can find. Ranking can only occur after the crawling and indexing steps are complete. So, once a search engine has crawled and indexed your site, your site can be ranked.
Some of the Most Common SERP Features
While the full list of SERP (Search Engine Results Page) features is quite long, we'll cover a few of the more important ones below.
Google Ads
Google Ads is a marketing strategy that involves displaying ads at the top of Google search results. While the Google SERP is mostly made up of organic results, you'll often find paid ads at the very top.
When someone clicks on a Google Ads, they are taken to a landing page where they are invited to buy a specific product or services.
Featured Snippets
Featured snippets can be displayed above regular organic results. Sometimes this is called "position zero" in the ranking.
In a featured snippet, Google highlights a piece of text or video from a website to provide a concise, direct answer to a user's question.
Local package
A local package appears in SERPs when a query includes a local service, local area, or includes a geographic name such as "digital marketing course near me" or "best restaurant near [insert city here]." These results include businesses near your current location.

The local package is placed at the top of the SERP below the AdWords results, although it may occasionally drop below the organic links.
Top stories
Headlines play an important role when people want to get more information about a significant event or breaking news.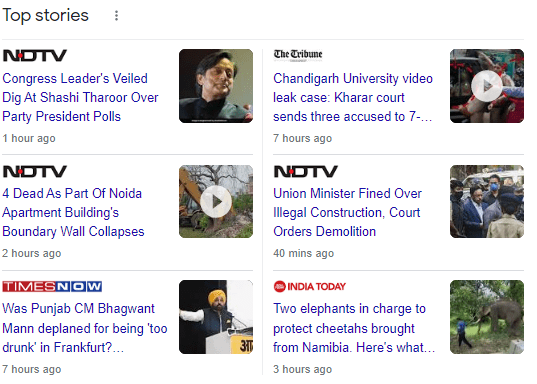 Google offers a carousel of news related to the query, showing when and by whom the story was published.
People Also Ask
People Also Ask (PAA) refers to questions that Google automatically creates based on queries it thinks are related to your question.

PAA field questions are associated with answers that users can click to read in Google search results. This can help people better understand their original question without clicking on other results.
Videos
Another common SERP feature in many searches is videos. Because Google owns YouTube, it often offers a list of YouTube videos in the search results for a given query, without the user having to go to the "videos" tab in the search results.
Image packs
These are results that are displayed as a horizontal row of image links that go to a Google Images search. It can appear in any organic position.

How to Enhance for SERP
SERPs provide tremendous value to your business as they give you a way to reach your target audience through Google. If your web content receives relevant search queries, you will get tons of users coming to your site to find what they need.
Getting your content to rank is a strategy called Search Engine Optimization (SEO). Here are some basic ways to get your business to appear on the Google SERPs and drive traffic to your site!
Create compelling content
The first and most obvious way to use SEO to appear in Google search results is to create compelling and relevant content on your website. You can make videos about your products or write blog posts about general topics in your industry. You can insert relevant keywords into your content to help it rank for these search queries, but make sure your content is relevant to the user's search intent – that is, what users are searching for.
Set up a Google Business Profile
Google Business Profile is another way to appear in search results. Creating an optimized Google Business Profile means you can appear in local packs for relevant searches in your area. It's possible that your company already has a profile, in which case you can claim it by providing Google with proof of ownership. Once you own your profile, you can fill it with as much information as possible, from your phone number to your hours. You can also add photos and manage reviews to further encourage users to buy from you.
Take advantage of paid advertising
The third major way to get into Google search results is through paid advertising. With Google Ads, you can set up paid ads and landing pages to advertise your products or services. You can then bid on relevant keywords where you want them to appear.